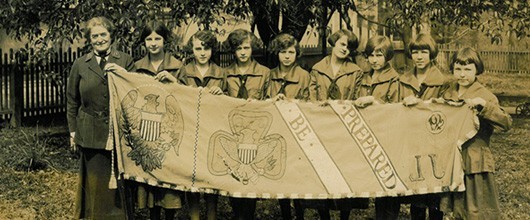 Our History
Juliette Gordon Low had a dream.
In March 1912, when she brought that first group of girls together in Savannah, Georgia, she wanted them to explore new possibilities and the wonders of the world around them—and she wanted them to do it together.
Along with Juliette Gordon Low, also known as "Daisy," these first Girl Scouts blazed trails and redefined what was possible for themselves and for girls everywhere. They played basketball. They hiked, swam, and camped. They learned to tell time by the stars. And most importantly, they shared a sense of adventure and a belief that they could do anything. And just like Girl Scouts do across the country and around the globe today, they offered a helping hand to those in need and worked together to improve their corner of the world.
Since the founding of the Girl Scout Movement more than a century ago, Daisy's small circle of girls has grown to include nearly 2 million girl members and more than 50 million Girl Scout alums—united across the decades by a spirit of lifelong friendship and shared adventure and the desire to do big things to make the world a better place.

Read more about Juliette Gordon Low and Girl Scout history.

"Truly, ours is a circle of friendships, united by our ideals." 
— Juliette Gordon Low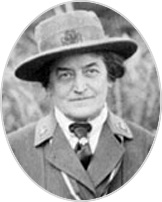 Girl Scouts of Connecticut: McGuff Museum of Girl Scout History
The Girl Scouts of Connecticut McGuff Museum of Girl Scout History is located on the first floor of our North Haven Service Center. Please contact us to schedule a visit!
It includes:

Displays of Girl Scout memorabilia from around the state

An area where Girl Scouts can dress up in uniforms from the past

Simple hands-on actitivies to explore

The museum also occasionally hosts programs or special events! 

Historical Suitcases
Bring history to your troop meeting or local event! The GSOFCT Historical Committee has created several suitcases with various uniforms, accessories, and handbooks. There is no fee to borrow these suitcases, but they must be picked up from and returned to the North Haven Service Center. Borrowers are held responsible for the contents.
Reservations should be made through the Request to Borrow Historic Items Form as far in advance as possible.
Other Resources
Record This Moment In Time
Cheryl McGuff Girl Scout Story
Past Historic Milestones
Celebrating over 100 years of Girl Scouting
The 100th Anniversary of Girl Scouting took place on March 12, 2012. Throughout the year we held events and had ongoing activities celebrating this momentous occasion.
Gold Award Centennial
Since 1916, Girl Scouting's highest award has had many names — Golden Eagle of Merit, Golden Eaglet, Curved Bar, First Class, Gold Award — and in 2016 we celebrated the accomplishments of every girl who has changed the world by earning it!
10 Years of GSOFCT 
While Girl Scouting has been a part of Connecticut's history since 1912, we began operating officially as Girl Scouts of Connecticut on October 1, 2007. We celebrated this amazing milestone in 2017. Here's to 10 more amazing years!