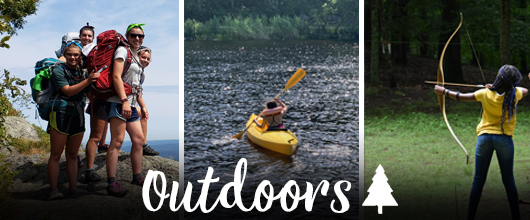 You live in a world of screens—smartphone! laptop! TV! tablet!—and sometimes you just want to get away from it all. We get it. That's why you can focus your whole Girl Scout experience on getting outdoors.

You'll develop the kind of outdoor skills it's hard to get anywhere else. Skills like building a campfire, pitching a tent, or canoeing across a lake.

Hey, how about adding some horseback riding, rock climbing, and archery to the mix? Round things out with a ropes course, some zip lining, and maybe a week-long back-country trek, and you'll find out how much fun it can be to unplug and explore the world around you.

Check out our latest Program Resource Guide to see how you can experience the outdoors with Girl Scouts. In the summer, join us at one of our summer camps and learn amazing skills while making life-long friends! 
Patch Programs
Earn patches such as Letterboxing and Fire Safety! 
Outdoor Program Facilitators
We are currently seeking interested adults to help facilitate adventure programming at our camps. If you'd like to learn more, please contact us!