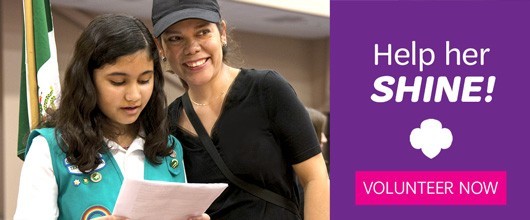 Volunteers are the lifeblood of the Girl Scout movement! 

As a volunteer, you'll introduce girls to new experiences that show them they're capable of more than they ever imagined. They'll each find their inner G.I.R.L. (Go-getter, Innovator, Risk-Taker, Leader)™ after all! Prepare her for a lifetime of leadership, and be the mentor she needs.
Embark on an extraordinary journey of leadership!
Our Promise to Volunteers
We will provide:
 a volunteer position description and training
an extensive network of resources, contacts, and program ideas and ensure services, materials, and resources are available and accessible
current information on upcoming events and activities through newsletters, meetings, and online resources
ongoing support, guidance, evaluation, and recognition of your volunteer service.
We will also: 
respect your expertise and prior experiences 
create an engaging and educational learning experience
provide curated information in your educational progression
identify connections between your volunteer service and professional skills development.